Day 4 – Old Naoro to Efogi Two
This was going to be another big day about 10 hours on the track. Phillip explained due to our pace we were going to be stretching the time frame today. Phillip was getting to know us and made the comment, too much F…….  talking!!!!! As he looked straight at Harry and Norm, (Phillip has a good sense of humour).  We all went off in a happy frame of mind.
We had two big climbs the Menari Ridge and Brigade Hill. Over the Menari Ridge down to Menari Village for lunch and we would decide, if we go on to Efogi for the night. It was about this time that a porter by the name of Mansoon took over the job of lead porter for the rest of the trip. He was about 40 years old with a lot of experience in the hills but it was only his second trip across with trekkers. He was one of the main singers and full of fun. Horse, The Golden Child and Josh, taught Mansoon to say, Rock and Roll whenever we were starting up from a break. Well he had a bit of trouble with the word rock so it got shortened to Wok and Roll and that was the call up front. They also made up a lot of bird calls for fun and would yell out along the track. The porters loved it and you would here them yelling out from up to 100 to 150 yards down the track or was that Harry, hard to tell when out of site.
A short walk from Nauro village through some swampy country and we came to Brown River. Boots of and wade through we went. It would be a big river in flood. Only 350 meters to the top of Menari ridge. Not long but very steep. We were heading down now to the Menari Village for lunch. 
 Just before we got to the village there was a creek with a fairly easy log crossing. This creek also floods so they have a high log crossing so as to cross when water is high. The log is about four inches wide and about 12 feet up over the rocks below. No one tried that one except Josh. He went pretty well till about half then slowed a bit and got a bit shaky in the legs. He regrouped and made it across. I think it was Mansoon that went out on the log just in case. Then just to show what can be done, Phillip walked across the log in two seconds flat as if it was flat ground. He wasn't asked he just had to get across the creek.
The group had broken up a bit coming into the village, and I was with Max, Mary and Ralph. The  village opened up to be quite large with a footy goal post in the middle and about 20 kids playing about. So Max suggested if I had another footy the kids may have some fun. So I pumped up another footy, (Dragons of course) and once the kids saw a football they came running. We kicked it into the middle and like ants they were everywhere. We kicked it about with them for a few minutes then wandered through the village.
We got a call from a hut and an old Fuzzy Wuzzy was up there waving from a window. He came down to meet us, he had his medals on and patches all over his shirt, we think he was fairdinkum. We just don't know however as he spoke no English. We got photos with him anyway and he was full of smiles a real legend.
After lunch we moved on to take on Brigade Hill and onto Efogi village for the night. Brigade Hill this was the big climb. It was 700 metres with no small downs at all just up and up for 700 metres. We had all gone a fair way we thought almost an hour when we stoped for a break. Derrick comes along the No 2 guide and tells us we are ¼ way to the top. Well that went down well. So that was it we just kept climbing up and up to the top. It was probably the hardest climb I did, but about 2/3 thirds the way up we came to a gap in the trees. This same gap was pointed out to us 2 days earlier from a long way back. Tassie my porter pointed it out back then and said we would be going through it but it seemed a long way away back then. 
After about two and a half hours climbing we reached the top. It was a spectacular view of the ridges in all directions. There is a plaque at the top explaining what happened there in the battle. We had no idea how tough it was for the soldiers back then but the terrain has not changed much since.  I have no idea how they managed to dig into the bush to fortify for battle. We had the book to spot where the companies were but you just can't believe how tough the terrain is.  It was a very important hill as it controlled the high point for a fair way around.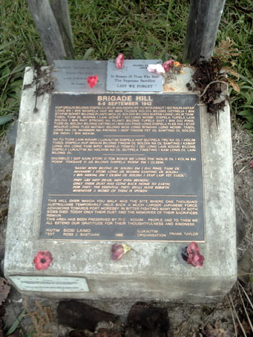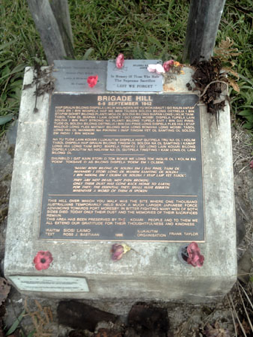 It had taken us three long days to get to this point. We had done this in dry conditions. Looking back  now I think we had just completed the hardest part of the track. We had porters to lighten our load a bit, so how the diggers did it in day light and dark and in the rain and mud, with full packs and guns. You  have to have experienced it, to have any idea how hard it must have been. They certainly had what the Isurava Memorial says.
Max gave us our history lesson, although I think he was a bit sketchy on detail, but this was common for Max. We didn't mind he gave it his best shot. From here it was all down hill to Efogi Village, even though it was still another hour away. It is not the same track from here to Efiog as the soldiers used that was shut down by the villagers after the war.
Devils Corner (it was given that name during the war) they call it, a very tricky climb down, very steep and very narrow with a big drop off  to one side. Anyone who has done the trek would know it well. How they ever got stretchers with wounded up there is beyond belief. It was pointed out to be very careful as a lady trekker before us had gone down the side once before. 
The war time name for this section was Mission Ridge. This is where the war track joins the current track. You can see the Kagi airfield from this spot. Efogi airfield is still out of sight. There was a Seventh day Adventist Hut near here during the war. I suppose that was where Mission Ridge came from.  
We all arrived safely at Efiog very late and very tired. Efiog is the biggest village on the track with a good airstrip. Another feed and early to sleep. Each night meal consisted of rice either steamed white rice, cooked just like Nella Bown does and very tasty. We had a Mexican rice of some kind one night that was nice too. That was with pasta of some kind it was only ok but I had it any way. You could always get Bananas and oranges at each village and they were always at the dinner table each night. They made a great Billy tea, black and 2 sugars. We were all looking forward to tomorrow as it is only a short day 5 hours. But first the food drop.
My porter, Casmiro Maia and Myself. We called him Tassie. He had a sore eye the whole trip and it was almost closed by the time we finished. Every time I asked him how it was, he would just say, its ok, I be ok. Tough little bugger. I could tell it was painful for him. He used up all the Panadol I could find for him.
It was the Dragons cap I gave him that gave him the inner strength.
Story written by Ian Bown of Forbes
For more pictures visit the Kakoda Gallery